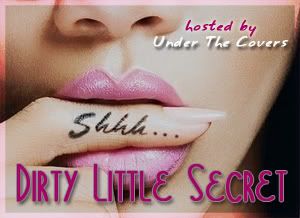 Dirty Little Secret is a weekly meme hosted by the ladies over at Under the Covers. Every Thursday we get to know other bloggers and our readers more intimately by asking them a question hoping to reveal their dirty little secrets. Jump over to Under the Covers to link up :)
Q:What book would you recommend to to heat up your summer!
Lora Leigh's Nauti series. I just finished the last book (Nauti Deceptions) and LOVED it! Yummy aggressive alphas and great suspense to go with the romance. I'm scared as hell to ever set foot in Kentucky after reading them but still a great series :)
For the more adventurous readers... Elizabeth Amber's Lords of Satyr series. They're historical erotica and a little different. The heroes have two cocks. Which was...interesting. Definitely need a more open mind for this series. There are some really different qualities to the heroes/heroines that might not work for everyone but if you're looking for something a little unique this would be it.
Oooo and Cherise Sinclair's Masters of the Shadowlands. I think these were actually my first erotica books. It's been a while since I've read these but they are seriously steamy and my favorite BDSM books by far. There's a lot of heat in them but also really great stories in general and interesting characters.
So what are yall's hot summer suggestions?!