A couple fun finds this week! I picked up a ton of these...
Are you picking any of them up? Read any of them?
*Please leave a quick comment if you grab one of the deals.*
It really helps me when I'm picking next weeks finds to know which ones interest yall :)

Found a good deal? Shoot me an email at acade29@gmail.com and will add it to the next Friday Finds!
Deputy Sheriff Nick Rogers found out small-town life meant adjusting to two things—gossips and Laney Cavanaugh. And neither was much help in solving a bridal shower murder.
Some days it appeared like everyone in Whitehorse had a secret—including their new lawman. And falling for Laney wasn't a good way to maintain a low profile. Nick might have been new to Whitehorse, but he wasn't above getting his hands dirty. Even if everybody in Laney's family had it in for the victim, and they were fixing for a fight. Wedding bells were always trouble, and, unfortunately, trouble always had a way of hunting Nick down.
*FREE* Amazon Barnes&Noble (Full length novel- 2nd in series)
~~~*~~*~~~*~~*~~~
49% of Americans believe their government officials are honest. I don't know these officials, or their supporters, but I know their secrets, and 49% of Americans are wrong.
My employers pay me well to be right, to know things others can't. But I don't know why they brought that boy in, strapped to a stretcher, barely conscious. He asked me for help when I could give none.
I'm a wealthy spy, a talented artist, a martial arts black belt, and a prisoner. They tell me that on my eighteenth birthday, I will be released, free to go to the college of my dreams. It's my eighteenth birthday, and a man in black is at my door. I know he's not here to free me.
I know, because I can read minds. My name is Sam, and this is my story.
*FREE until 10/7* Amazon (Full length novel- 1st in Series)
~~~*~~*~~~*~~*~~~
When Daniel has to travel to San Francisco and needs an escort for a social event, the beautiful Sabrina shows up on his doorstep. Little does he know that she's not an escort. Their encounter quickly turns steamy until lies threaten to destroy their passionate affair.
*this one's an erotic romance- just a heads up
*FREE* Amazon (stand alone- 150ish pages)
Boris Zankoff is a shapeshifter from the Tiger Clan who wants no part of the burgeoning civil war among the Amoveo, But when his human mate lands on his doorstep in desperate need of his help, apathy is no longer an option.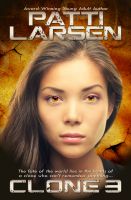 ~~~*~~*~~~*~~*~~~
Clone Three wakes in a decaying city she is sure doesn't match the one she came from. If only she could remember. She has a purpose at least--she must find her fellow clones, and the statue whose image is embedded in her mind. But she is lost, surrounded by a dead and crumbling metropolis, fought over by those who have been altered by the illness that has ravaged humankind, turning survivors into strange and terrible new forms. She must risk everything, including the safety of those who try to help her, in order to fulfill her task. But is she this crumbling world's salvation… or the source of its downfall?
If there's one thing that Janica Ellis is absolutely certain of, it's that she and Luke Carson are totally wrong for each other. She's a wild, artistic and outspoken fashion designer. He's a type A, workaholic trauma surgeon (who just happens to be sizzling hot and her brother-in-law!). But Janica is about to be proven wrong when opposites attract...in the sexiest possible way.
After a life-changing night in the ER, Luke is desperate for escape - and relief from his personal demons. For five years he has fought his attraction to his sister-in-law, but when he's pushed too far, he can't fight it another second. He needs her. Desperately. He's spent his whole life doing the right thing. For one night, he's going to follow desire instead. Straight into Janica's arms.
Janica can't believe Luke is finally at her front door...and that he's kissing her like he's been waiting his whole life to touch her. But even as their sensual connection deepens with every touch of skin on skin - and the man she always thought was such a good boy turns out to be sinfully, toe-curlingly bad between the sheets - Janica soon realizes she wants more than Luke's body. She wants his heart too. But what will Luke do when one night of extreme passion turns into an all or nothing proposition?
*FREE* Amazon (Full length novel 200+pages, 2nd in series)
Savannah was groomed from birth to take the reins of her father's manufacturing empire. Her emotional armor is as tough as the steel used in her factories, and nobody is allowed past it. Business partner Matt realizes that the key to entry is to command her submission. Calling on the unique sensual talents of his four-man management team, he engineers an aggressive and erotic takeover, determined to rescue the woman he loves from the steel cage she's manufactured around her heart. Masked and lost to the sensations the team arouses in her, Savannah is theirs, at least for this one night.
Spirited Chelsea decided she'd sooner run away to London than return to her vain and selfish guardian, Aunt Augusta.
But in her wildest dreams, she never imagined her dear godmother would arrange a Season—or convince the ton's most eligible bachelor to take her under his wing.
Lord Wainwright was a handsome rogue who was not interested in coy games and missish airs. He expected a country mouse with no polish, but instead he found a thoroughly engaging minx, and was oddly irritated by all the male attention she received.
Chelsea with her unspoiled eye saw beyond Wainwright's pursuit of hedonism to the intriguing man underneath. But to her shock, it appeared his heart belonged to her horrid Aunt Augusta!
Holly Weeks, whose boyfriend has lured her to the sale under false pretenses, wants to walk barefoot on a Tahitian beach and read a thousand books for pleasure. There are many other goals on her "Life List," but getting married isn't one of them. Never mind that she's in love. Now if she could only figure out what's holding her back.
Maggie Prescott is lonely in her empty nest. When her husband forgets their twenty-fifth anniversary, she wonders whether she even wants to share a nest with him anymore. Donating her wedding gown seems like the right thing to do.
Grace Hardeman, who's volunteering at the sale, wishes for health, happiness, and a party with loved ones to mark fifty years of marriage. But soon she's facing the fight of her life. Together, these three women at turning points in their lives learn there's nothing like friendship to strengthen a heart that's in danger of breaking.
*SALE 99 cents ends 10/6* Amazon Nook (Full length novel-Stand alone)
~~~*~~*~~~*~~*~~~
Legends can be dangerous, just ask Sariana Dayne. She sets out to hire one and wakes up married to him. It's a marriage of infuriating inconvenience as far as Sariana is concerned.
Gryph Chassyn stirs all her senses but he's one of the mysterious mercenaries known as Shields. Sensible women do not marry such men. But for Gryph, marrying Sariana is a matter of honor, passion and survival. He needs her in ways she cannot even imagine.
Before Sariana can find a way to escape the bond that has been forged between them, she and Gryph are caught up in a desperate quest to save their world. The future looks a little different but some things, like love and passion, and murder never change.
*ON SALE $1.99* Amazon
2 series from Lisa Renee Jones! Vampire Wardens & Werewolf Society
*ON SALE 1 WEEK ONLY $1.99*
Amazon
Barnes&Noble (Five stories-2 Series-Novellas)